What's New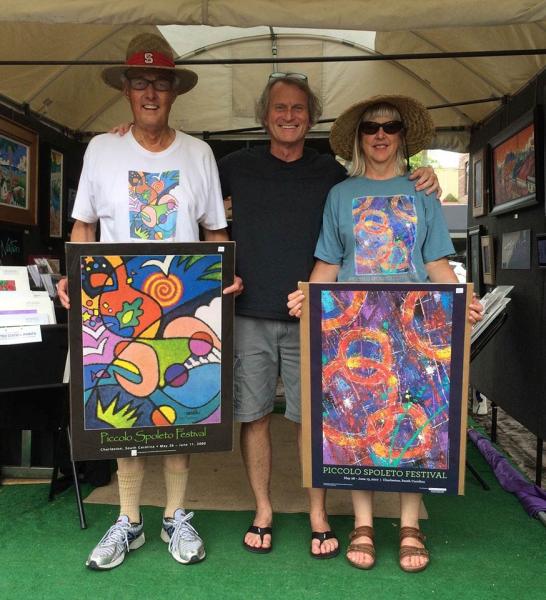 Piccolo Spoleto
This couple from Georgia came in to my Piccolo Spoleto art exhibit tent in Marion Square, wearing t'shirts from the two years that my paintings were chosen as the official image for the Festival (2000 and 2010)! How cool is that?!?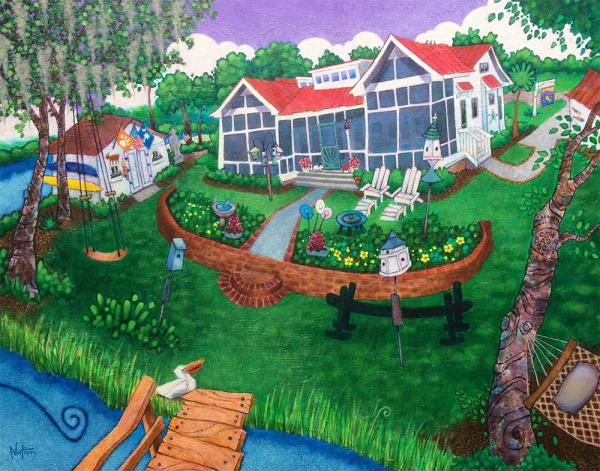 A tremendous honor! This MARSH HOUSE PORTRAIT
This commission was a truly Special Honor! I was privileged to be commissioned by renowned Charleston artist Betty Anglin Smith's husband, Cody, to paint this as his surprise gift to Betty for their 50th Wedding Anniversary! It's of their beautiful 100 year old marsh house in Meggett, SC, where Betty paints and they spend much family time! Happy Anniversary Cody and Betty, and thank you for allowing me this honor!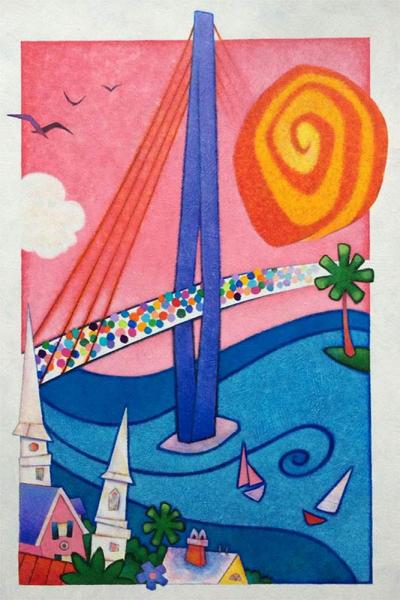 COOPER RIVER BRIDGE RUN 2017... Official Artist of the 40th Annual Bridge Run!
BIG Exciting NEWS around my studio!! My Painting "the Big 4-0" was recently chosen as the Winning Artwork for the 40th Annual Cooper River Bridge Run, the third largest 10K and fifth largest road race in the United States!
For the April 1, 2017 race, my painting will be featured on 50,000 t'shirts, thousands of posters, and untold amounts of race gear, promotional schwag, awards, and prizes. To say that I'm honored would be a huge understatement. Sign up for the race and you'll receive some of those goodies! I hope to see you in Charleston for the run, or at any of the 40 days & 40 nights of events leading up to Race Day!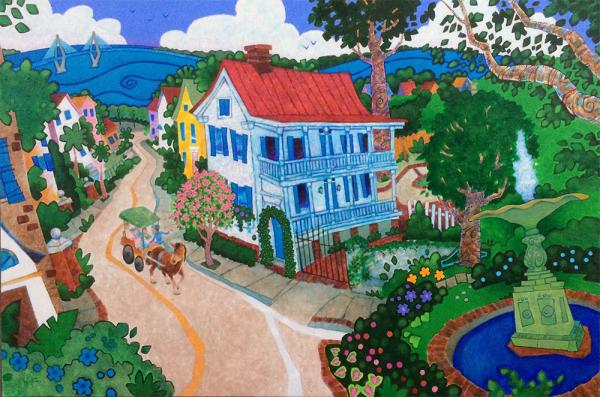 A RECENT COMMISSION
Downtown Charleston, SC
Commissioned by the couple who recently restored this 1840 house near the Charleston Museum and Fountain Park.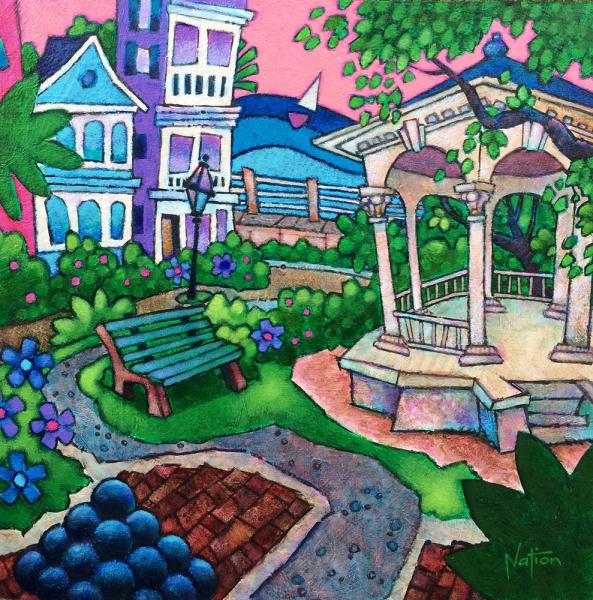 A RECENT COMMISSION
White Point Gardens, Charleston Battery
Commissioned by a gentleman in Madrid, Spain as a surprise gift to his wife, to commemorate the 10th Anniversary of their wedding in Charleston.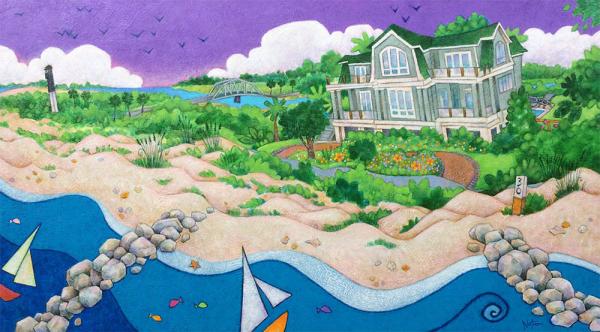 A RECENT COMMISSION
Sullivans Island, SC
A 75th Birthday surprise for a gentleman, commissioned by his daughter & wife.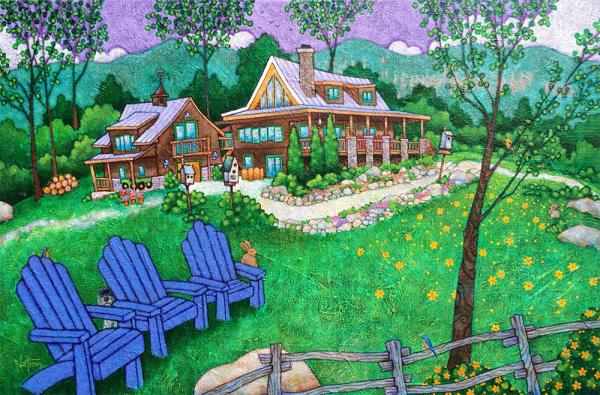 A RECENT COMMISSION
Lake Lure, NC
A surprise Anniversary gift, commissioned by a good friend for her husband, a long-time good friend of mine!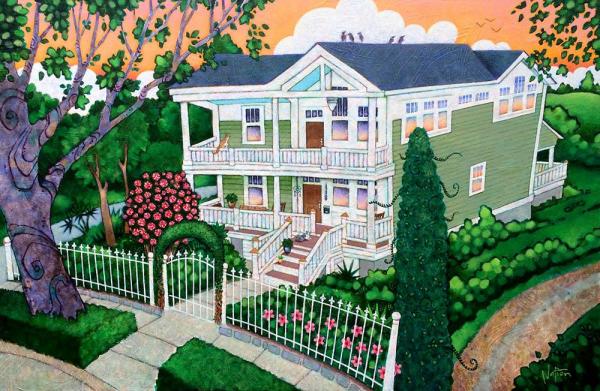 A RECENT COMMISSION
Charleston, SC
A family's new home (including their 2 cats!), downtown near Hampton Park.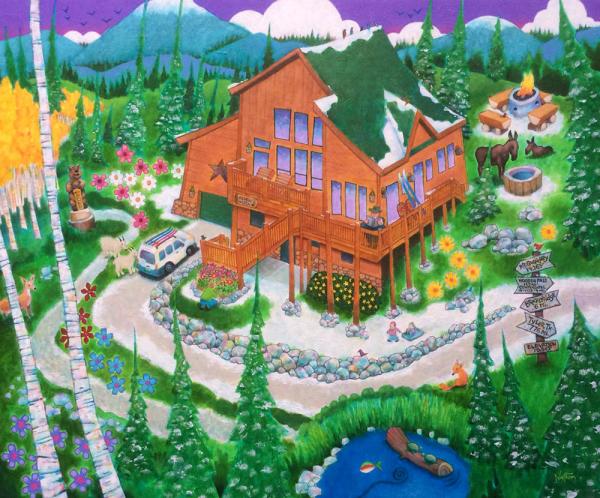 A RECENT COMMISSION
Breckenridge, CO
A Texas couple's vacation home in Colorado, commissioned by the wife, as a surprise gift for her husband.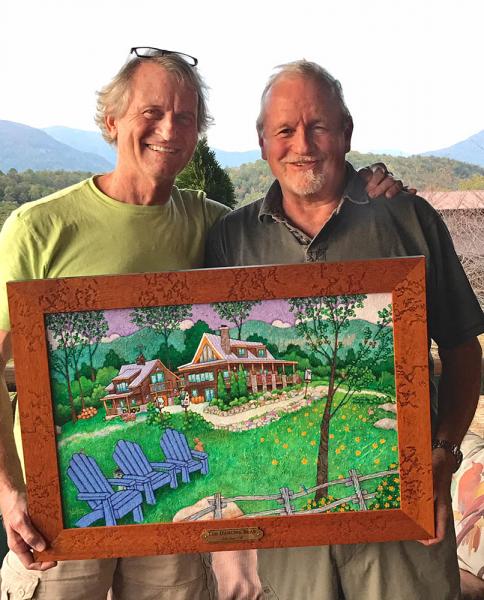 The Dancing Bear Lodge
Recently, I had the tremendous pleasure and privilege of delivering this house portrait to my long-time dear friend, Lee Helmer, that his wife, Lynn, commissioned me to create as a surprise gift for their anniversary! It's a painting of their beautiful Lake Lure, NC mountain house ("the Dancing Bear Lodge"), jam-packed with lots of personal details and love. To say that Lee was stunned by Lynn's surprise would be a huge understatement! I was incredibly honored to have played a role in their anniversary surprise.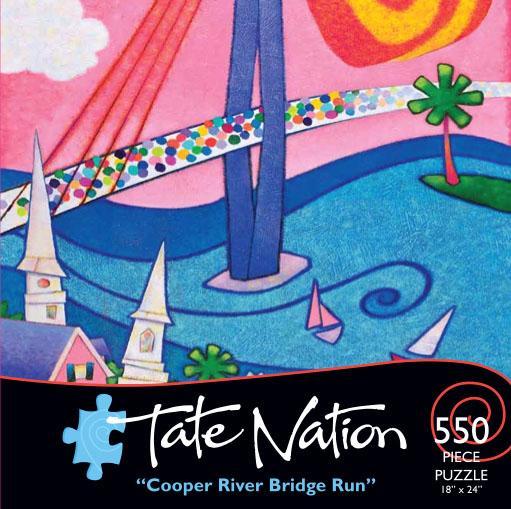 New Puzzle! Cooper River Bridge Run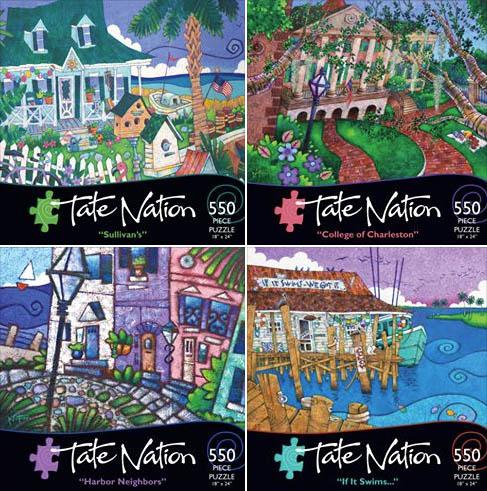 New Puzzles Are Now Available!!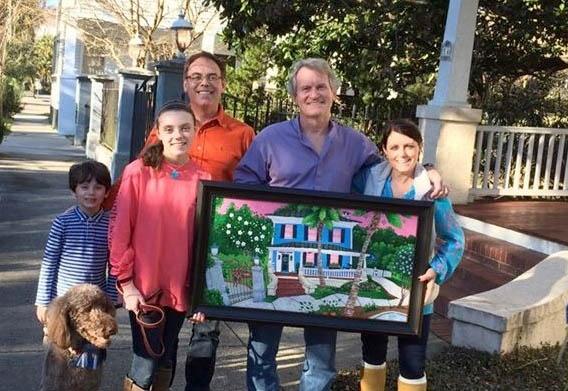 The Stieber Family
The Stieber Family is thrilled with their new house portrait! ... and so am I!
Gadsden Street, Charleston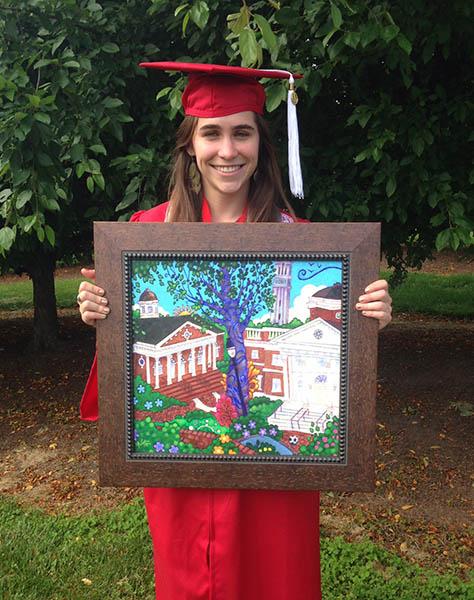 A special graduation gift for a recent NC State University graduate!
This recent graduate's mother commissioned me to paint some of her favorite spots on campus, and presented her with it immediately after graduation ceremonies! Nice gift from a proud mom!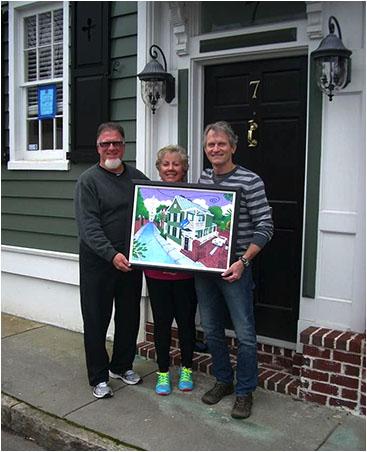 New House Portrait - Very Happy Customers!
Just delivered this house portrait, commissioned by Jana & Steve Edgington, of their home in downtown Charleston... and they were thrilled! ...which is why we drank a toast to celebrate it at 11am! Yup, Cheers!! :)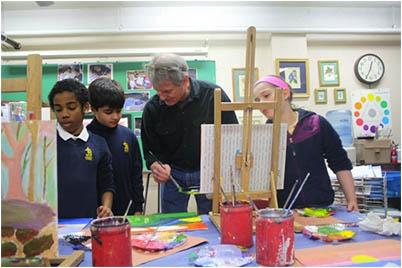 I had an awesome week in BOSTON last month as ARTIST-IN-RESIDENCE at the Jackson School!
While there, I conducted painting workshops with some incredibly creative & talented 4th, 5th, & 6th grade artists, and had so much fun showing & discussing some of the kids' books I've illustrated with grades k-3.
... Can't wait to go back again!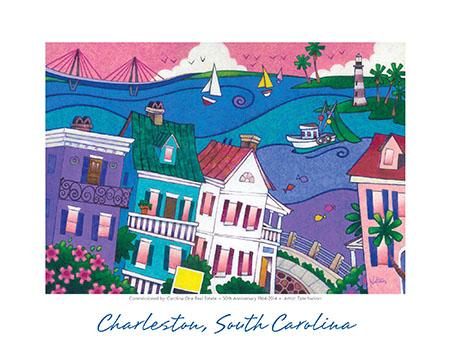 50th Anniversary Commission...
I'm honored to have been commissioned by CAROLINA ONE REAL ESTATE to paint a custom iconic Charleston scene in celebration of their 50th Anniversary... At their grand gala & awards ceremony, my original painting was unveiled, and each of the hundreds of attendees was given a commemorative print!
In this interview, TV host Warren Peper talks with Tate about his passion for painting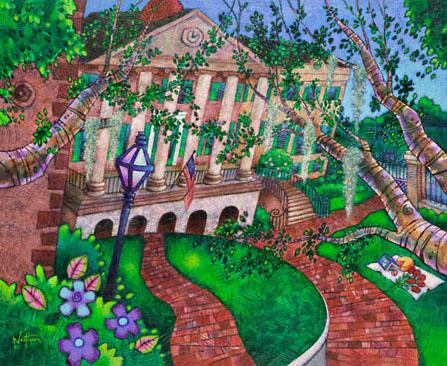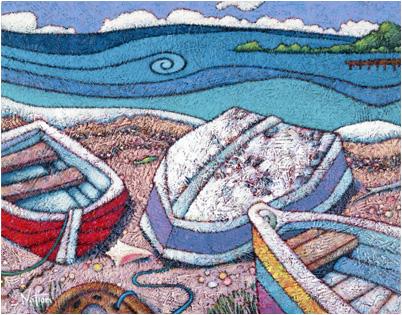 Turkey Day Run #35!
I'm pleased and quite honored that for the 2nd year in a row, Charleston's TURKEY DAY RUN (incidentally, the largest TDR in the USA!) has chosen one of my paintings -- "James Cistern Boats" -- to be featured on over 6,000 t'shirts, as well as on posters and other promotional materials!(read the announcement on their site) www.turkeydayrun.com
Start your Thanksgiving morning off right with a fun 5k run along with 6,000 of your closest buddies, and get a great-looking shirt to prove you did it! See you there.
the heArt attack - Tate Nation from Justin Nathanson
2011 Turkey Day 5k Run
My painting, "On the Harbor" was selected as the official poster & t-shirt image for the 2011 Turkey Day 5k Run in Charleston. Watch the video interview!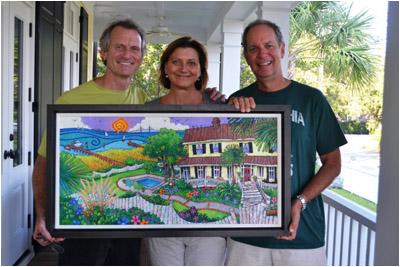 Creger/Shingler House
Just delivered this new house portrait commission to a very excited Brad Creger and Louisa Shingler in Mt. Pleasant!
Before I begin a house portrait painting, I visit with the client in their home and talk with them at length, finding out the things that make their home so special to them. I take scores (sometimes hundreds!) of photos, from all angles, from both close-up and far off, and of every possible detail, so that as I paint I can incorporate numerous personal details to help capture the home's character.
If you'd like to discuss commissioning me for a house portrait or another private work, please contact me.
Official Poster Image for the 2010 Piccolo Spoleto Festival
At a May, 2010 press conference with Charleston mayor Joe Riley and officials from the Piccolo Spoleto Festival,one of my abstract paintings, "Connections", was unveiled and introduced as the Official Poster Image for the 2010 Piccolo Spoleto Festival!
"Connections" was featured on thousands of posters and t'shirts throughout the Festival, as well as on the covers of tens of thousands of program guides!
By the way, having previously been featured as the Festival's Official Poster Artist in 2000, I'm now a member of an elite group of only 3 or 4 artists to have ever been honored as a repeat winner in the Festival's 32 year history!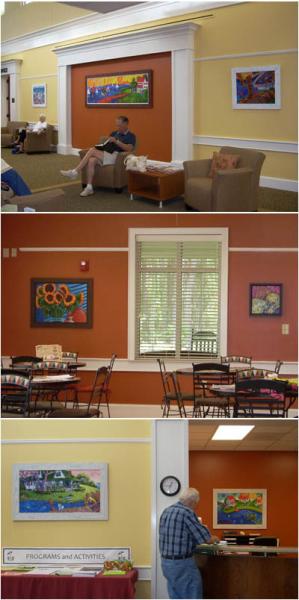 The Mt. Pleasant Recreation Department
The Mt. Pleasant (SC) Recreation Department recently cut the ribbon on its brand new Senior Recreation Center, complete with seven large framed canvas giclee prints that the town commissioned me to reproduce from some of my favorite paintings. I'm honored that they chose to feature ONLY my artwork throughout the Center, so it's kind of a private gallery, and I've received many nice comments from their patrons. If you're in Mt. Pleasant, please stop by and see this beautiful facility!